We have performed at some of the most beautiful venues in Ontario, from Muskoka, Niagara to Toronto.    Just like our clients, each wedding is unique.   A wedding is your dream day and should encompass all your favourite things.   From your family to your favourite colours, flowers, food, best friends and finally bringing it all together with your first song.    That's where Kim & Company come in.
We'd like to share some photos of beautiful weddings we've played over the last couple years, followed by our clients testimonial.      Enjoy our portfolio.
Alyson & Adam booked Kim & Company for their wedding ten months prior to their date.   They booked us based on videos they'd seen on line.   Kim visited the venue to scope out the best place for the band to set up and was in contact throughout the planning process with Alyson's wedding planner, Kate Vanderlugt, The Little White Dress.  Alyson and Kim kept in touch via email & telephone throughout the ten months to make sure we were on track with the set-up and songs they wanted.    For their first dance they chose, 'Crazy Love' by Van Morrison.
Alyson & Adam's summer wedding was held in Cambridge at the beautiful Roseville Estate.   These beautiful photos were taken and provided to me by Ben Kane Photography.
"I could not be more impressed with Kim & Company. We hired them for our recent wedding, and although my husband was unsure about hiring a band instead of DJ, after 15 minutes he ran over and said that I had made the right decision! I have been hearing rave reviews from our guests ever since. Everyone was so impressed at how talented they were and how they were able to play so many different types of music, new and old. The CFO of my company came up to me when I returned to work and said, "I gauge weddings by the food and the music. The food was excellent and the band was AMAZING – the BEST wedding I have ever been to." If you want to impress your guests definitely hire Kim & Company for your event, they will not disappoint!"
  – Alyson Conrad, Bride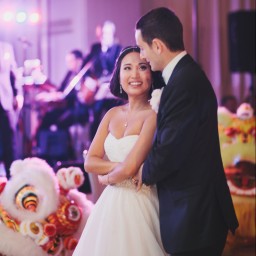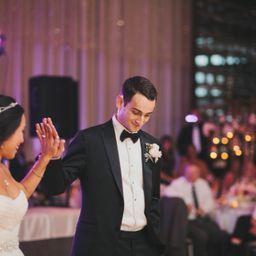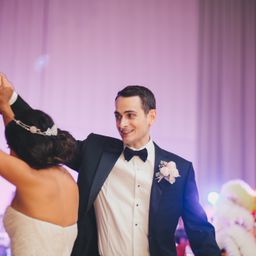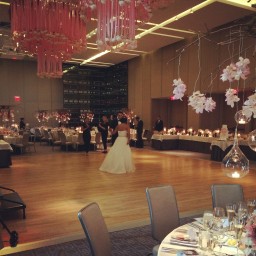 Kim & Company were contacted by Vivian's mother almost a year before Vivian & Jordan's wedding date.   They had heard us perform the prior year at the Unionville Music Street Festival and were hoping we would be available for their date.  
Vivian & Jordan had one stipulation with regards to hiring our band !  They wanted the band to perform their first dance, True Love Way by Kings of Leon.   We were happy to oblige. We learned their song and it was set to start after the traditional dragon dance.
We provided a jazz trio for some background cocktail music, customized complimentary DJ'd playlists during dinner and our intermissions.  We also provided music for the entry of all the bridal party.
   Vivian & Jordan's wedding was held at the Four Seasons Hotel in Yorkville, Toronto.   
Wedding planner: Lisa Garafalo of Bliss Events Photography by Mango Studios & Videography by Cloud Nine Creative
"Thank you for a great performance at my daughter's wedding. The dance floor was fully packed with folks from 6 to 90 years young from the start to the end. I was worried about the first dance song as it was not an easy one to play but your band rocked it. All 250 guests loved the band and it was one of the highlight of the event. Once again, thank you for making our children's special day a memorial one."
   – Huong Pham,  Mother of the Bride
"The band had phenomenal energy and brought all of our wedding guests to their feet. It was the perfect last act of our wedding day."
  – Vivian & Jordan, Bride & Groom
 CORPORATE EVENTS
---
We have been providing exceptional entertainment for corporate events and galas for 12 years.   It has also been a sincere honour and pleasure to be called back annually because the band was a huge part of the event.
Here we are showcasing our testimonials from new and past Corporate clients that we've had the pleasure of working with.   We would also like to highlight some of the outstanding Event Planners we have worked with on these events.
Kawartha-Haliburton Children's Foundation Annual Dream Ball
The Kawartha-Haliburton Children's Foundation Dream Ball holds a themed event annually.  They've had masquerade parties, Great Gatsby Themes to  rolling out the red carpet Hollywood themes.  We have provided them with the full big band, (11 pieces) and complimentary DJ'd services throughout their cocktail reception and dinner.    Before the event, we work with you to ensure everything is set for the entertainment portion of your event.  Whether you need extra wireless mics, special music for guest artists, lighting – all these products are services we offer.
This  past year we celebrated our twelfth year of providing exceptional live entertainment for The Kawartha-Haliburton Children's Foundation.  
"The Children's Foundation host a Gala Ball each November in order to raise money for children. Kim & Company have provided music for a great many years and they are an integral part of our success. Their music, professionalism and flexibility are outstanding. Everyone has enjoyed their music in the past and we always book a year ahead to ensure that no-one will be disappointed."   (November 2004-2016)
        – Dr. Margaret Davies,  Founder of the Kawartha Haliburton Children's Foundation
"Kim & Co. played at our fundraising event called the Dream Ball in Lindsay Ontario and they were absolutely amazing … music was sensational, Kim and band were wonderful to work with. I would highly recommend them for any function.. A++++ "  (November 2004-2016)
        – Donna Barry, Fundraising C
Abilities Centre's 8th & 9th Annual Dream Galas
2013 & 2014
We have had the distinct pleasure of playing many events for the late Honourable Jim Flaherty and his wife, Christine Elliott, MPP.   We first met Jim & Christine at Class Act Dinner Theatre in Whitby.  They came out to a Frank Sinatra Tribute show we produced and performed.  We were subsequently hired to provide entertainment for the Hon. Flaherty's Canada Day Celebrations and also provide entertainment at one of Christine's events at Downtown Porsche.     
The Abilitie's facility was a passion of The Hon. Jim Flaherty & Christine Elliott's and we were thrilled to provide the entertainment for their 8th Annual Dream Gala and even more honoured to be a part of their 9th Annual Dream Gala which was held in the memory of our friend, the Honourable Jim Flaherty.  
"Kim & company had all of our guests on their feet and moving the whole night, regardless of their age. Kim is a pleasure to work with!"
     – Zoe Middleton, Special Events Abilities Centre